Jobs for anti-pirate guards rise says Devon firm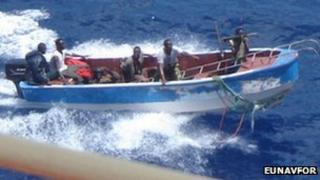 Increasing numbers of former armed forces personnel are finding work protecting merchant ships from pirates, says a Devon firm.
Securewest employs 150 guards in areas like the east African coast where pirates prey on ships.
And it says there is rising demand for the recruits by shipowners.
The International Chamber of Shipping, which represents merchant ship owners, said piracy had "spiralled out of control" since the start of 2011.
Clare Williamson-Cary, CEO of Kingsbridge-based Securewest, said ship owners were becoming more confident about having security guards on their ships.
"There has been a great deal of nervousness among owners about armed guards," she said.
"But many crews are now reticent about getting on ships unless there is security."
The European Union has a naval force, EUNAVFOR, in the Gulf of Aden which is tasked with preventing pirate attacks on merchant shipping.
UK Prime Minister David Cameron said in October that he also wanted to see licensed armed guards on British merchant ships.
Pirates are holding 11 vessels with 194 hostages around the world, according to the International Maritime Bureau.
The International Chamber of Shipping said: "Arming ships is a necessary alternative to avoiding the Indian Ocean completely."
Ms Williamson-Cary said: "We are not looking for a fight, our job is entirely defensive, to make sure pirates don't attack our client's ship."