Elephant to have right eye removed in operation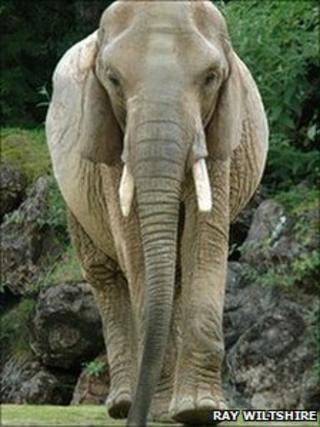 An elephant at a Devon zoo is to undergo an operation to remove an eye.
Duchess, a 40-year-old African elephant at Paignton zoo has been treated for cataracts in both eyes and glaucoma in her right eye.
Paignton zoo said the two conditions meant her eye-sight was "greatly reduced" and she had no sight in her right eye, which was causing her pain.
Two ophthalmologists and the zoo's vet will perform the operation while Duchess is under a general anaesthetic.
Eye drops
The four-tonne elephant was diagnosed with glaucoma in April this year and has been on medication.
Ghislaine Sayers, Head of Veterinary Services said: "We use eye drops to try and decrease the pressure. It's the same way glaucoma is treated in humans.
"Recently, the pressure in her right eye has increased to the point where it can no longer be controlled by drugs.
"Removing the blind eye will not affect her vision but should improve her welfare."