Okehampton food bank: Demand doubles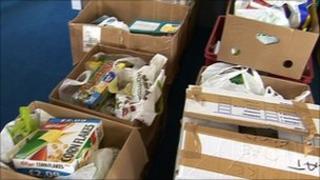 A Devon food bank has been dipping into its reserves to keep up with a doubling of demand.
Requests for food parcels in Okehampton have risen in the last few weeks from 10 a week to 20, organisers said.
The food bank said it had spent about £4,000 in the last five months to keep up with demand for parcels.
The food bank was given about £12,000 in donations after the loss of more than 300 jobs in the town in March and April.
The Rev Barry Walton, of Okehampton Baptist Church, which receives donations for the food bank, said: "Demand had flattened out at about 10 requests for help per week.
"In the last three weeks we have averaged 20 and where we are going to go in the run up to Christmas is anybody's guess, but it will certainly be up.
"It is a case of all sorts of people simply struggling to make ends meet."
He said that the food bank, which started in 2008, had seen a big increase in donations of money and food after redundancies were announced in March and April at Polestar foods, Robert Wiseman diary and Browne's chocolates.
Since then a number of people have been re-employed after buyers were found for Polestar and Browne's.
About 90 jobs in the town are to go in March 2012 when Kerry Ingredients moves production to Shropshire.