Gina Robins cooked kitten to death in microwave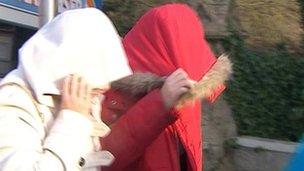 A woman who microwaved a 10-week-old kitten to death has been found guilty of causing it unnecessary suffering.
The kitten's owner Sarah Knutton told Torquay Magistrates' Court she heard a sound then a "horrendous screech".
Gina Robins, 31, of Salisbury Avenue, Torquay, had denied the charge, claiming the kitten had been shut in the microwave oven by other cats.
Magistrates heard Robins was angry at Ms Knutton for reporting her boyfriend to police over a separate matter.
Robins was released on bail and is due to be sentenced at the court on 14 December.
Prosecutor Iain O'Donnell, for the RSPCA, told the court: "We say the defendant put the 10-week-old kitten in the microwave and cooked it to death."
Prior to the incident, on 16 February, the court was told that Robins had sent Ms Knutton a text message which said reporting a confrontation involving Robins' boyfriend to the police had "made it worse".
Ms Knutton, 35, also from Torquay, told magistrates that on the day of the incident Robins had gone to her home with her toddler son and had gone into the kitchen to heat up his food.
"She was in the kitchen for a couple of minutes and came into the lounge with the bowl of baby food," Ms Knutton told the court.
"She was jumpy, really, really different from when she went to the kitchen.
"She was fidgety, something was wrong. I heard the loud noise... then this horrendous screech, a horrific loud screech."
She said when she had found the dead kitten she had felt sick and "numb", but Robins made no attempt to comfort her.
After the kitten died, Robins sent Ms Knutton a text message, ending their friendship and saying: "Remember the saying, 'What goes around comes around'?", adding: "The cat? Karma."
Vet Robert Cameron said the kitten "would have suffered prior to death".
He said its claws and ears - where there was no fur - were both reddened and its claws had been clenched in fear.
The chairwoman of the bench, Liz Klyne, told Robins that the magistrates found it "implausible" that another cat had closed the microwave door.
She warned Robins that they would look at all options, including jail, when she was sentenced.
After the trial, Insp Jim Farr of the RSPCA said: "It's sad that we're here but, at the end of the day, it is sending out the message that animal cruelty will not be tolerated."
Related Internet Links
The BBC is not responsible for the content of external sites.