Scott centenary Antarctic trip for Plymouth student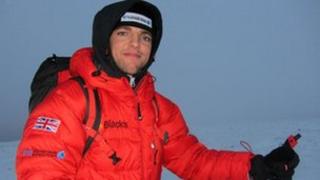 A marine biology student from Plymouth University is to take part in an Antarctic expedition in honour of Captain Robert Falcon Scott.
Before being selected, 21-year-old Henry Evans had to pass a series of physical and psychological tests.
As part of the International Scott Centenary Expedition (ISCE), he will trek to Scott's last resting place.
They will take the same route as the rescue party that went out in search of Scott and his companions.
Scott and four others died on the ice after running out of food while returning from a failed attempt to be the first to reach the geographic South Pole.
When they arrived at the pole in January 1912, it was to discover a Norwegian flag planted 33 days earlier by a rival team led by Roald Amundsen.
'Outstanding' team player
The centenary expedition will be led by Plymouth explorer Antony Jinman and will involve a 300-mile (483km) trek, travelling overland hauling sledges with supplies.
When the trek has been completed, the team will join a special commemorative event with descendants of Capt Scott and his team.
Mr Evans, who comes from Saffron Walden in Essex, applied for a place on the expedition through a competition set by the Daily Telegraph newspaper.
Mr Jinman said Mr Evans had proved to be an "outstanding team player".
The student said he had to "give everything he had" during the year-long assessment against 10 other short-listed candidates.
These included assault courses and psychometric tests at HMS Raleigh in Cornwall, Royal Navy officer training near Portsmouth in Hampshire and a week in sub-zero conditions in Norway where he had to pull a sledge for up to 15 miles (24km) a day.
"The tests were really designed to take you out of your comfort zone and then push you to the limit," Mr Evans said.
"I was utterly shocked when they told me I had won - I was the youngest in the competition and I wasn't sure if that was going to count for or against me."
'Research possibilities'
The expedition will set off in November 2012, before which Mr Evans will have to to build up his upper body strength by pulling tyres.
He will also have to fit in his final year studies in marine biology and has been speaking to scientists at the university over possible research possibilities.
He said: "Scott was a scientist - and I am training to be one - so I'd really like to involve the university in the expedition in whatever capacity that might be."
Mr Jinman, who oversaw the selection programme, said: "Henry's development, over what has been an arduous 12 months, has been quite remarkable.
"He is an outstanding team player and has great leadership and communication skills."