Clamping begins to target 'dumped' cars in Torbay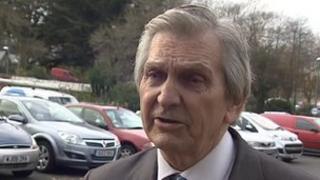 Motorists in Torbay who persistently park illegally and refuse to pay their fines will have their vehicles clamped.
Torbay Council said it was a last resort for persistent offenders in the area.
A spokesperson said many of the cars were not taxed and owners did not have insurance.
Cars will be clamped for a week to give owners the chance to get the legal documents. If they fail to do this the car will be "disposed of", they added.
The authority, which has a Conservative majority, said there were cars in the bay that had had up to 90 parking tickets.
Councillor Robert Excell, the executive lead for parking services, said: "There are lots of cars being dumped in the Bay, we don't know who the owners are.
"They move their cars around, leave them and collect the tickets... they shouldn't be on the road."