Venomous fish 'too large' for Torquay's Living Coasts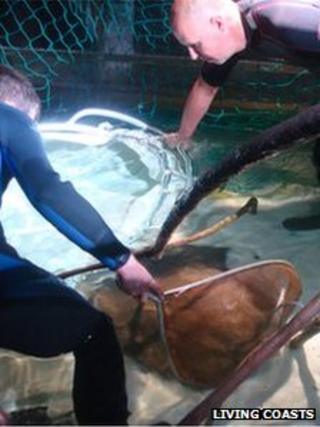 Two venomous fish have been moved from a Devon zoo after they grew too large for their tank.
The pair of mangrove whiprays have been moved from Torquay's Living Coast to Weymouth Sealife Centre.
They each weigh about three stone (19kg) and are about 3ft (1m) in diameter. In the wild, whiprays live in mangrove swamps in the west Pacific.
The fish, called Bonnie and Clyde, were caught with nets and taken to Weymouth by lorry.
Exhibit Manager Clare Rugg said: "They were carried on wet stretchers to the lorry.
"We used a 7.5-tonne truck with a 2,000-litre water tank.
"We aim to get new, smaller rays of the same species in due course," she added.
The tail is used for steering and balance but also carries a sting, a zoo spokesperson said.