Warning over Dartmoor sheep worrying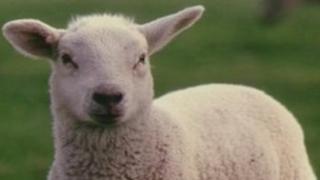 Dog owners are being warned to keep their pets under control after sheep-worrying incidents on Dartmoor.
The moor's Livestock Protection Society said it dealt with 57 incidents in 12 months, as well as two pony attacks.
Arnold Cole, a Yelverton farmer, said the problem was getting worse as more people used moors to walk their dogs.
The Dartmoor Commoners' Association, Livestock Protections and Dartmoor National Park have appointed a part-time warden to monitor the situation.
'Harsher legislation'
Mr Cole said: "Sheep have been parted from their lambs, they've had severe wounds and they've died after two or three days."
He said people would sometimes report incidents but were vague about the location and "by the time we've found the sheep, we usually find it dead".
"Each year there's a bigger presence of the public on the commons and I can only see the problem's getting worse.
"Dogs are banned from going on public parks, they're not allowed into the recreation field, so people think they can bring them onto the commons and let them loose.
"We've got to have a lot harsher legislation because these animals now are getting more and more value and we the farmers have got to make a living."
Jane Cole, of the Livestock Protection Society, said people often let dogs off leads "not knowing that livestock was nearby".
She said: "If you can't rely on your dog's obedience around livestock, then it must be on a lead.
"You also need to be able to call them back if they are off. If they aren't likely to respond, again don't let them off the lead."
Police said farmers had a defence in law to shoot dogs if they were out of control and that owners would be prosecuted if there was sufficient evidence.