Torquay car railing collision: Three arrested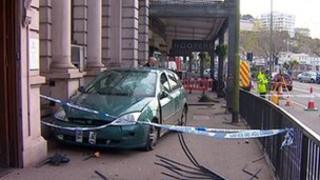 Three men have been arrested after a vehicle collided with a railing outside shops in Torquay.
Officers on patrol went to the scene in the Strand to assist after hearing the crash on Friday morning.
They saw three men making off from a green Ford Focus which had gone through the metal barrier outside HSBC bank.
A window of the neighbouring Hooper's department store was also damaged. Police said they were investigating if the collision was deliberate.
A 27-year-old man was detained at the scene. Two others, aged 23 and 46, were arrested by officers later, police said. All three were from Paignton.
No-one was injured.