Sidmouth residents' plan to save cliff homes from sea withdrawn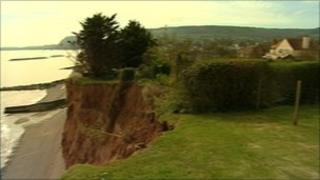 Plans to protect 12 properties from falling over an eroding cliff edge in Devon have been withdrawn.
Twelve homes are said to be losing land at up to 4m (13ft) a year because of erosion at Pennington Point, Sidmouth.
Residents of Cliff Road applied for a 210m-long wall of boulders to be built at the cliff base.
East Devon District Council recommended rejecting the plans but at a meeting suggested a working group be set up to find a better solution.
The original plans were then withdrawn by the applicant and a working group involving the local community set up to consider the best options to protect the area.
Committee chairman Mark Williamson said he "had a great deal of sympathy for the residents but that the committee had to consider the best interests of Sidmouth overall".
'Keep pushing'
The Cliff Road residents calculated that due to the speed of the erosion the first of their homes could be claimed by the sea within 15 years.
They proposed that 5m-high boulders, at a cost of £900,000, should be placed along the base of the cliff to prevent waves from pounding it.
Paul Griew who submitted the plans said: "I would have liked them to have supported the application fully.
"We managed to get people worked up enough to agree to take action now, but they said it was not the best proposal to get the results needed, and this gives them time to do this. We're going to keep pushing."
In a statement prior to the meeting Natural England said "the application has not demonstrated the need for a scheme of this scale or impact and has not considered alternative options."
But it said it was "confident a way can be found to protect the area".