Call to stop Plymouth airport closure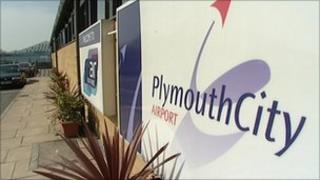 Campaigners have asked Plymouth City Council for a 28-day public consultation period on the closure of the city's airport.
Viable wants to allow time for more legal and commercial evidence to be brought forward.
Sutton Harbour Group, the airport's operator, intends to close the airport in December, saying routes are no longer profitable.
The city council said Viable's request was with its lawyers.
The last commercial flight by Air Southwest, the airport's sole carrier, departed in July.
Councillors voted in August to accept the airport's closure.
'Whole picture'
Raoul Witherell, chairman of Viable, said: "We think there is more commercial and legal evidence to be looked at about the airport's closure.
"We have asked for a 20-day consultation period to bring forward the whole picture."
Viable said Plymouth's economy relied on having an airport.
Members include former Air Southwest chief Malcolm Naylor.
Mr Witherall, head of Plymouth-based Interactive Media Sales, said: "If the airport shuts on 23 December as planned we will certainly be able to come in and set the airport up again and we hope to run air services from summer 2012.
"The problem is if the airport infrastructure is dismantled in the interim period.
"That would be a way of spoiling that whole process so we want to make sure that doesn't happen."
The council said in a statement: "The council followed a very clear and robust process when assessing Sutton Harbour Holdings' claim that the airport was unviable and this included a process of due diligence by independent auditors and the commissioning of an independent study into the options for the airport.
"It believes all procedures and processes were followed properly.
"The council has received notice of a potential judicial review and the matter is now with its lawyers."