Dialysis unit costing £1.5m opens in Plymouth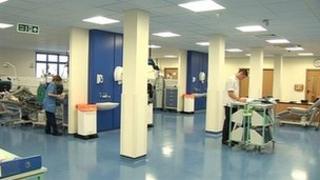 A £1.5m dialysis unit for patients with kidney failure has opened in Devon.
The Plymouth Dialysis Unit has moved from the city's Derriford Hospital to a purpose-built unit in Eaton Business Park.
Managers said the move would provide patients with a bigger, brighter and more suitable unit.
More than 180 kidney failure patients are expected to use the unit a year from Devon and Cornwall, a hospital spokesperson said.
Anca Ichim, manager of the Plymouth Dialysis Unit, said: "The unit is four times bigger than our previous premises and is much lighter and brighter, which is so important for our patients.
"Many of them are on dialysis for years, some for more than 20 years, and they come to us three times a week, for three to five hours each time."
Wai Tse, lead clinician at Plymouth Hospitals NHS Trust, said: "Our new facility is a massive improvement on our old one, a ward which was converted 25 years ago.
"Whilst it served its purpose at the time, it had become tired and cramped."