Torbay's alcoholic problem 'big'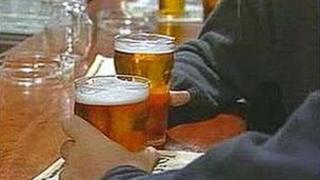 About 10% of people with alcohol dependency in Torbay are being treated for their addiction, the resort's care trust has said.
Its figures show that about 200 people are being treated, but the trust said the problem was "much bigger".
More partnerships were needed to get those addicted to receive support, it added.
Figures suggest Torbay has one of the highest proportions of alcoholics receiving benefits in England.
The figures released last month from the Liverpool John Moores University revealed 170 alcoholics were on benefits in Torbay, making it the fifth highest in proportion to population of any primary care trust in England.
Graham Shiels, manager of Torbay Care Trust's substance misuse service, said: "Torbay has a problem with alcohol in general. Evidence suggests there is a lot of binge drinking in particular which is contributing to the overall figures."
Mr Shiels said the trust was working on developing partnerships with the courts and prison to get support for more people.
'Getting people involved'
"Two alcohol liaison officers have been appointed into the hospital and we have a partnership with the Job Centre Plus to help more people," he added.
"We look at getting people involved in employment training and education, to help with treatment."
In Plymouth, figures revealed there were 260 alcoholics on benefits - 158 people out of every 100,000 in the city.
In Devon, 360 people with alcohol dependency were on benefits - 84 out of every 100,000, the figures showed.
The statistics were from the university's Centre for Public Health.