Devonport nuclear submarine dismantling details on show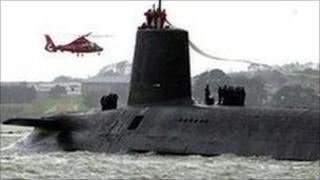 People in Plymouth are being given their say on proposals to dismantle nuclear submarines in the city.
The Ministry of Defence (MoD) is holding a series of public workshops over three days in the city's Guildhall.
Members of the MoD project team will be answering questions and addressing concerns.
The workshops are part of a public consultation on the MoD's proposals for Devonport and Rosyth in Fife, Scotland.
The workshops are on Saturday, Sunday and Monday at 11:30, 13:00, 15:00, 16:30 and 18:00 GMT.
Hull recycled
Details of the workshops and an exhibition are on the document for the Submarine Dismantling Project.
Ten decommissioned submarines are currently stored at Devonport and seven at Rosyth.
On its website, the MoD said the work would include removing all radioactive material, mainly metalwork, which had become radioactive during use.
Radioactive waste which cannot be disposed of immediately would be placed into storage and the submarine hull recycled.
The MoD said the submarines needed to be dismantled because storage space would run out by 2020 and the cost of maintaining them was increasing.
Rear Admiral Simon Lister, of the Royal Navy, said if the work was carried out in Plymouth, he believed "the local population are confident of the safety standards at the yard".
He said: "It is not completely safe, but we think it is as safe as possible."