Injured Plymouth marine Ben McBean plans 100km desert run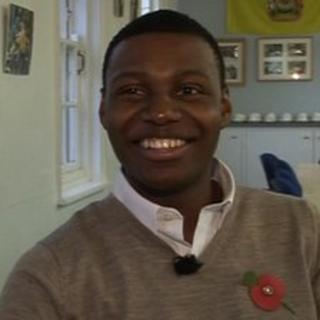 A former Royal Marine from Plymouth who lost an arm and a leg in Afghanistan is planning to run 100km across a desert next year.
Ben McBean, 24, was injured in 2007 but has since run two marathons and reached the base camp of Everest using a prosthetic arm and leg.
He said: "100km sounds really bad, but I don't think it will be."
The former marine from 40 Commando, based in Taunton, said he had not yet chosen the desert or when he would run.
He added: "All I know is I'm going to be doing it and I need to realistically get myself fit and also look at my limbs as well in case sand gets in the joints.
'Skin fell off'
"I want to make sure that I've got a good chance that my limbs are not going to fail on me and the rest is up to me just persisting and getting through it."
Mr McBean completed his first marathon a year after being injured, but training prior to the race consisted of just one 1.5 mile (2.4km) run because "all my skin fell off" his stump after it rubbed against his prosthetic limb.
"I turned up on the day, got to the 13th mile and the rest of my skin fell off. I got there in the end, but it was a bit of a nightmare. I just enjoy challenges."
After being discharged from the marines in 2010 Mr McBean turned his hand to motivational speaking, counting Chelsea FC among his clients.
He also visited students at South Dartmoor Community College for a remembrance service.
He told the students about the day he was injured while on foot patrol after waking up with a "weird feeling".
"When I woke up I thought I was going to get hurt, or even worse, die. I just had this weird feeling and low and behold it happened.
'Absolute nightmares'
"As I hit the floor I realised my leg was missing and my arm was wrapped around the back of my neck and I was in a really bad way. I was in situation where I was about to die.
"I woke up in the UK minus an arm and a leg. Gutted. Some things have been absolute nightmares, but a lot's been really good so there's been no need to be upset."
Mr McBean showed some of the students images of him on the operating table as surgeons removed his leg.
One student, Matt Lilley, 17, said: "It was really eye opening. Words can't describe the moment of seeing a picture of him on that operating table with no legs and then seeing him sat there really happy and upbeat.
"He had a lot to come back from, but he set himself goals, he set himself the marathon when he was in the hospital bed and he couldn't even stand. It's just amazing."
Mr McBean, who recently became engaged, said Remembrance Day "means a lot" to him.
He said: "I went to war and I almost paid the ultimate sacrifice but I managed to pull through and wear a poppy and look back and realise how lucky I am to be here.
"The reality is I'm never going to be in the military again, which I'm gutted about, but all I can do now is move forward and look forward to the future and have a smile on my face and just enjoy life until the very last day."