Plymouth dockyard workers agree Babcock Marine pay deal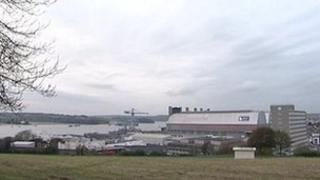 Workers from three of Devonport Dockyard's four unions have agreed to accept a pay deal from the owner, defence company Babcock Marine.
The firm is offering two one-off payments to staff - £1,000 this year and £900 next year - in an attempt to mitigate a two-year pay freeze.
GMB, Unite and UCATT voted to accept the payments. The Prospect union's result is not yet known.
The GMB said 67% of workers agreed with the payments.
Babcock Marine employs about 4,000 people at Devonport, in Plymouth.
Stuart Fegan, GMB Organiser, said: "We are pleased that the members have considered and accepted the pay offer.
"The team believe that it is the best deal to be had by negotiation."
Prospect is expected to release its results later.