A38 trees in Devon cleared to slow disease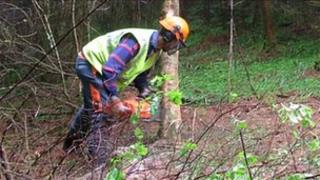 About 2,100 trees will be felled in south Devon in a bid to slow the spread of an "aggressive virus", the Highways Agency has said.
Trees will be felled along the A38 between Exeter and Plymouth from the middle of November, it added.
The Forestry Commission said the disease, called phytophthora ramorum, had spread to some of the trees, and felling would help to control it.
Trees will be felled at 29 sites, including Haldon Hill and Marley Head.
About 100 hectares of infected trees in the Glynn Valley, in Cornwall, have already been felled.
The Forestry Commission has served the Highways Agency with a Plant Health Order to fell the trees along the A38 before the end of March 2012.
'No chemical treatments'
David Hinde, Highways Agency senior environmental advisor, said: "Phytophthora ramorum spreads from spore producing plants such as larch and rhododendron and kills most trees that it infects.
"Trunk roads provide one of the potential pathways for its spread.
"Spores can be spread through the air or in rain, and may also be carried on vehicle tyres, footwear, tools and equipment.
"No existing chemical treatments are capable of combating the pathogens, so the trees have to be felled," he added.
About 330 trees will be cleared from Haldon Hill, 163 from Bickington and 157 from Marley Head, near Plymouth, the agency said.
Rhododendrons, which also carry the disease, will be treated during the process, it added.
After the trees are removed the agency said it would review each site to decide whether replanting was needed.