Thieves steal lead from Bideford's listed town hall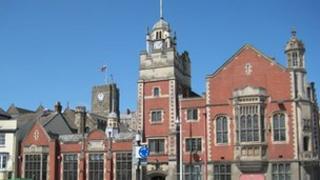 Thieves who stole lead from the roof of a Grade II-listed building in Devon have been branded as "uncaring, greedy and callous".
Lead and lead flashing worth about £3,000 was stripped from the roof at Bideford Town Hall and Library.
The theft was discovered when staff working in the library reported water leaking from the ceiling.
In removing the lead, the thieves also damaged slates on the roof of the 160-year-old building.
Council leader Barry Parsons said: "This act by uncaring, greedy and callous thieves has caused damage that will cost the council taxpayer of Torridge around £3,000 to repair.
"That's money that could and should be spent on services for the residents of our district, not on unnecessary building repairs."
Anyone with information about the theft is asked to contact Devon and Cornwall Police.