Mangabey monkey born at Paignton zoo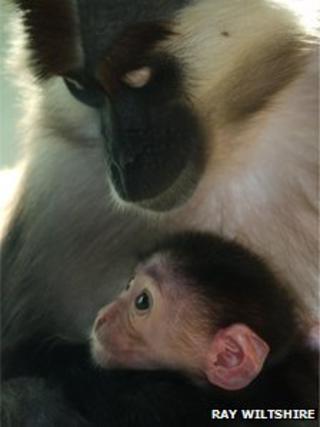 A rare species of monkey has been born at Paignton Zoo in Devon.
It is the second time the cherry-crowned mangabeys have bred at the zoo, a spokesperson said. The other time was in 2010.
The birth of the male brings the zoo's troop to six animals, two males and four females.
The species lives in the forests of Central Africa. The International Union for Conservation of Nature (IUCN) has classified the species as Vulnerable.
It said it was because of habitat destruction and the bush meat trade.
Head keeper Andrew Fry said: "It's a family group - mum, dad, sister, granny, aunty and baby."
The baby mangabey is yet to be named.