Derriford Hospital to "radically improve" parking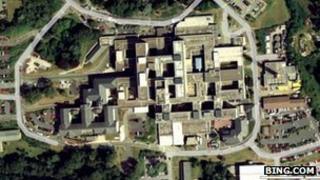 Plans have been put forward to "radically improve" parking at a Devon hospital which is considered confusing and congested by patients.
More spaces, clearer signs and wider disabled bays have been proposed for Derriford Hospital in a report.
But it also said free parking of 45 minutes should be reduced to 15 as people were "heavily abusing" it.
The plans will be considered by the overview and scrutiny committee on 9 November.
The Plymouth Hospitals NHS Trust report said that patients at the Plymouth-based hospital have "difficulty in parking and finding the entrance" which was stressful and could affect their visit.
Patients said they were confused by the car parks lay-out and there were insufficient spaces with some staff found to be parking across loading bays .
Reduced income
Patient feedback suggested many found it stressful having to pay for parking before attending appointments and there were "not enough disabled parking bays of adequate size".
But the report also proposed that 45 minutes free parking for dropping-off or collecting people should be reduced to 15 minutes.
It said the service was being "heavily abused" and had led to a reduction of £10,786 in income since it was introduced in 2009.
The report proposes that the site is re-designed with some spaces created specifically for certain services while staff should be prevented from parking in public car parks releasing 120 spaces.
It is also proposed that there should be an increase in the number and size of disabled spaces and barriers would enable patients to pay as they left the hospital.
The committee said a "final solution" would be finalised at the end of November with work set to start in January.