South Devon gets homes on former allotments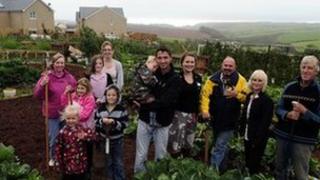 The first residents have moved into a £2m rented accommodation scheme in south Devon.
Great Park has been developed on former allotments which have been replaced at Malborough in the South Hams.
The 17 homes were built with £1.2m from the Homes and Community Agency and the rest from Hastoe Housing Association.
The South Hams is the least affordable place to live in Devon, according to a report from the National Housing Federation in 2010.
'Immensely proud'
It said the average house price in the South Hams was 15 times the average income of local people.
Councillor Michael Saltern, executive member for housing at South Hams District Council, said: "Provision of quality homes for local people is key to the sustainability of our rural villages. We are immensely proud of this excellent development."
The allotments have been replaced by local farmers Graham and Jo Hocking.
Jaimie Walsh, a Hastoe resident and allotment holder, said: "It's great that people in the village are able to rent an allotment because the fact is we have ended up with extra allotments and improved facilities such as a water supply, and more local people can afford to live here."
Joanne Flint, development officer at Hastoe, said: "Facilities such as allotments play a vital part in village life and we are really pleased to have been able to work with the parish council and the allotment holders to bring about these improvements."