Twitter warnings at Ottery St Mary barrel roll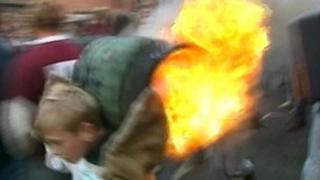 Police used Twitter to warn people of any safety problems at a Bonfire Night event in Devon.
Thousands of people were expected at Ottery St Mary for the annual rolling of tar barrels.
Police used a public address system and the Twitter tag #tarbarrels and said people could follow @DC_Police for updates on any safety warnings.
Twelve people were burned in 2009 in a blast thought to have been caused by an aerosol being thrown into a barrel.
The custom of carrying flaming tar barrels through the streets of Ottery St Mary is thought to originate from a pagan ritual aimed at exorcising evil spirits from the town.