'Anti-greed' protesters set up camp in Plymouth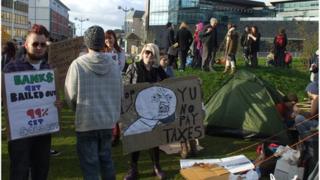 "Anti-greed" protesters have set up camp in the centre of Plymouth.
Occupy Plymouth, inspired by the protest camp at St Paul's Cathedral in London and others around the world, are protesting at Jigsaw Garden.
The group, which set up three tents on the site on Saturday, say the camp will continue "for as long as possible".
Kandahar Group, owners of the site which has been left undeveloped for years, were not immediately available for comment.
Activists protesting against inequality and corporate greed have been camping outside St Paul's Cathedral since 15 October.
Occupations have been held at cities across the world.
Natalie Lyndon, 21, who created a Facebook page for the protest, said: "I couldn't go to London, it would cost me too much, but I wanted to show my support.
"I thought 'Why should Plymouth not do anything?' Just because we are down here in Devon does not mean we are voiceless."
The group hopes that the protest will act as a magnet for discussions about inequality.
"We are all feeling the effect of the system," said psychology student Ms Lyndon. "One of the aims is to start conversations with people. We don't care if people disagree with what we are doing."
One driver shouted an expletive as he passed by while there were honks of support from other passing cars.
Mother Shelley Sanderson, 37, who was among about 50 protesters at the Jigsaw site, said: "Capitalism isn't working and while we are not sure what we are going to have instead, other people feel the same.
"The more people who say that the more people will listen."