Plymouth mother Donna Ruiz fights incinerator plans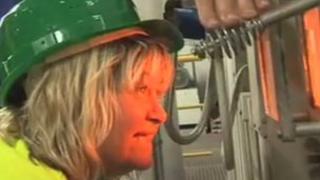 A campaigner against a planned incinerator in Plymouth says she remains opposed to it after visiting a similar plant in Germany.
German-owned MVV Environment wants to build a waste-to-energy plant in Devonport's North Yard.
Donna Ruiz, who visited an MVV plant near Leipzig, told BBC Inside Out she was concerned about gases and noise.
MVV says that gases go through a three-stage clean-up and emissions will meet "stringent regulatory standards".
South West Devon Waste Partnership, a group representing Plymouth City Council, Devon County Council and Torbay Council, signed a 25-year contract with MVV Environment in March and MVV hopes to start building in April 2012.
Plymouth councillors will vote on the planning application in December.
The closest houses would be 62m away from the plant.
MVV says there will be 132 deliveries to the plant every day between 08:00 and 19:00.
Mother of two Ms Ruiz, 46, whose home is 500m from the proposed plant, said: "Incineration is not the way to get rid of our waste.
"There's no proof that it's safe.
"There has to be a better way."
She added: "If we can make everyone aware of what is happening on their doorstep, I think we can win.
"It is happening for financial reasons and health has not been taken into account."
Paul Carey, managing director of MVV Environment, said: "This is not a dark satanic mill, it is a modern highly controlled piece of processing equipment.
"It will be doing a very valuable job diverting waste away from landfill."
MVV also says the plant could provide Devonport Dockyard with cheap steam-driven power.
Councillor Roger Croad, chairman of the South West Waste Partnership, said that the plant would meet health and safety regulations.
The Environment Agency would monitor the plant's outputs and if limits were breached, it had the power to shut down the plant.
"There is no question that the technology is safe," he said.
A crane was placed on the proposed site on Friday to demonstrate the height of the plant's chimney stack to planning committee members.
BBC Inside Out 19:30 7 November on BBC 1