Tom Daley models for Madame Tussauds waxwork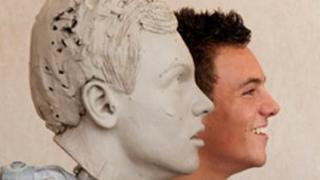 A waxwork of Olympic diver Tom Daley is being created at Madame Tussauds.
The former world diving champion, 17, from Plymouth in Devon, has sat several times for sculptors at the central London attraction.
The figure of Tom will be suspended mid-dive in the Sport Zone alongside other sports stars including David Beckham and Mohammed Ali.
"I can't wait to see the finished piece next year, it will be very funny standing next to my wax twin," he said.
Writing on his website, the teenager also said it had been "a really interesting experience" modelling for the waxwork.
A spokesman for Madame Tussauds said: "Tom's figure is going to make a really exciting addition to the attraction next year and the pose and set will be truly stunning."
The waxwork is due to be unveiled in February ahead of the start of the 2012 Olympics.