Free paint for businesses to 'brighten' Ilfracombe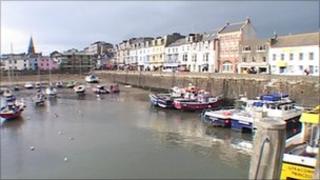 Traders in a north Devon town will be given free paint to redecorate their shop fronts in a bid to regenerate the High Street.
Ilfracombe Town Council said it could attract more visitors. It has a budget of £2,000 for the paint.
Mayor Rod Donovan said some people needed an "incentive to invest in their business".
Some traders think it will make the town look more attractive, while others said the money could better spent.
Mr Donovan said: "We feel the High Street needs some help... spending money on paint that will brighten up the place, I don't think anyone would object to this."
'Pallet of colours'
The council said the £2,000 would only supply the top coat.
Businesses could paint their properties in pastel shades of blue, purple and yellow, the authority added.
Ilfracombe trader Mark Roberts said: "I think it's an excellent idea... to decorate your business with a pallet of colours to be attractive to shoppers has got to be good."
John Fitz, who owns a computer shop in the town, said: "They could reduce the rent and help with business rates, they would have a much bigger impact on the town than just a lick of paint."
Other proposals include pedestrianisation of part of the town centre and making improvements to street lighting.
The council has a budget of £10,000 to make the proposed changes, which will go to consultation in early 2012.