Woodland work for rare butterfly in Dunsford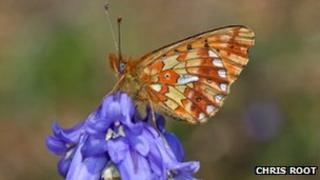 Work is being carried out at a nature reserve in Devon in a bid to attract rare butterflies to the area.
Trees will be coppiced at the Devon Wildlife Trust's (DWT) Dunsford nature reserve in the Teign Valley as part of a three-year project.
The work will involve cutting back areas of woodland to create good conditions for pearl-bordered fritillary butterflies.
The work will enable plants, which the butterflies rely on, to grow.
Matt Boydell from DWT said: "The coppicing provides exactly the conditions that the butterfly thrives in.
"It allows sunlight to reach the woodland floor resulting in stunning flushes of violets and bugle and other species that attract these butterflies.
"Although coppicing can look drastic, within a few years the trees will begin to sprout again."