Man injured after falling onboard yacht near Berry Head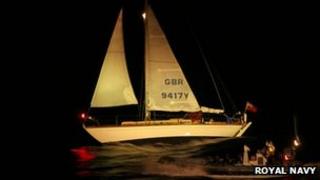 A 63-year-old man has been airlifted to hospital after he fell while on a yacht off the south Devon coast.
The man was on the Skean Dhu yacht on Monday at about 22:50 GMT when he fell. Coastguards said it happened 14 nautical miles from Berry Head.
"The man had fallen, probably banged his head and possibly had spinal injuries," said Andy Huber from Brixham Coastguard.
He was airlifted to Southampton General Hospital.
HMS Portland was training off the coast when the ship was alerted to the incident.
The Royal Navy said the winchman from the coastguard helicopter was unable to land on the yacht because of the stormy conditions.
He landed on HMS Portland and was transferred to the yacht.
The Weymouth lifeboat crew boarded the yacht and decided the man should be airlifted to hospital, Mr Huber said.
The Torbay RNLI lifeboat escorted the yacht back to Brixham Marina.
Mr Huber said there were two crew members onboard the yacht.