Royal marine "captures the spirit" in calendar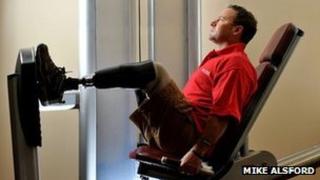 A Royal Marine who lost his legs in combat has helped produce a charity calendar to "capture the spirit" of injured servicemen.
Marine Mark Ormrod, 28, of 40 Commando worked alongside photographer Mike Alsford to help raise money for a new rehabilitation unit.
The images were photographed in and around Plymouth, close to the new Hasler unit at Devonport Naval base.
Mr Omerod said Hasler "has had a very positive effect."
The Royal Navy and Royal Marines have formed a new Royal Marine Unit called Hasler Company specifically to help aid the recovery, rehabilitation and reintegration of Marines needing focussed and individual attention.
"I thought about doing a calendar because a lot of people do not know that there are a lot of positives that come out of people's lives. It's not all doom and gloom."
Mr Omerod said the Hasler rehabilitation unit "gives people back their identity and gives them some optimism for the future".
Other Marines featured in the calendar include Vince Manley, who also lost both his legs in combat.