London 2012: Olympic torch in two-day Devon tour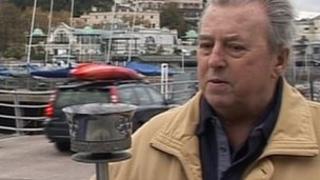 Plymouth is planning an evening of celebrations to welcome the Olympic torch for its first overnight stop on 19 May 2012.
On 20 May it will travel to Exeter for another overnight stop and on 21 May it will head to the north of the county.
The torch will travel through 30 cities, towns and villages in Devon.
There will be a 70-day tour of the UK before the torch arrives at London's Olympic stadium for the opening ceremony on 27 July.
Torquay, which was the sailing venue for the 1948 Olympics, will welcome the torch on 20 May.
Mike Adams, from Torquay, who carried the flame in Wiltshire in 1948, said: "It's fantastic because it links 1948 to 2012 and that's good for the area and good for the Olympics too."
Former sprinter Mr Adams still has the torch from his relay because the runners pass on the flame, not the torch.
He said: "It was an honour.
"We each had to run about two miles and, being a sprinter, that was a long way.
"It was a day to remember, or in my case a night because it was 9.15pm, it was dusk and then the flame went on from us to Exeter."
He added: "I didn't think I'd see another Olympics in this country again.
"If we enjoy it as much as we did in 1948 then it will be absolutely out of this world."
Torquay Mayor Gordon Oliver said: "We have fond memories of 1948.
"We are really looking forward to a day of celebration."
Plymouth City Council said it hoped thousands of spectators would turn out to see the Olympic flame arrive in the city.
A special show is being planned, culminating with a cauldron being lit from the flame.
And on Sunday 20 May there will be carnival-style festivities when the flame reaches Exeter.