National Trust withdraws £800k Plymbridge Wood project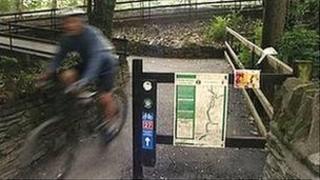 The National Trust is withdrawing an £800,000 project to create a bike hire centre, cafe and 15km of trails in a Devon woodland.
The charity said it had discovered a restrictive covenant which affected its plans in Plymbridge Woods.
A spokesperson said it was "not abandoning the project" and hoped to submit a fresh application in 2012.
Friends of Plymbridge Woods opposed the plans and said it was "quietly celebrating".
Members of the group had feared the trail would damage the woodland, a claim which the National Trust rejects.
'Golden opportunity'
John Longworth-Krafft, assistant director of operations for the trust, said: "The detail of this restrictive covenant remains unclear despite a great deal of work by our lawyers.
"We have therefore made the decision to withdraw whilst we understand our options.
"We are very aware that this will be a real disappointment to the many people and organisations that support our plans, and want to stress to these supporters that we are not abandoning this project," he added.
Friends of Plymbridge Woods chairman Arthur Ainslie said: "The application divides the community which is not a good thing.
"This withdrawal gives the trust a golden opportunity to address some of the issues with the plan."
Mr Ainslie said the group did not agree with the location for the cafe or with the bike trails going through the woods.
Mr Longworth-Krafft said the withdrawal would allow the trust to discuss concerns and address them where necessary in the new application.
In September, about 200 cyclists held a meeting on the site in support of the National Trust's plans.
The charity hopes to submit a fresh planning application in early 2012.