Banger racing memorial for Dunkeswell driver Dave Weare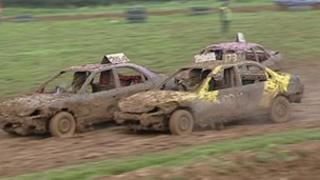 A banger race has been held to raise money for the family of a Devon driver killed in a horrific accident.
Dave Weare, 43, from Dunkeswell, was competing in a race in Staffordshire last month when his car ran into a fence.
As he got out of his damaged car to climb over a safety barrier, he was struck by another car and killed.
North Cornwall Motor Racing Club held the memorial meeting at East Taphouse, near Liskeard.
'Canny' driver
A share of the proceeds will be donated to Mr Weare's family.
Mr Weare held a competition licence with Autospeed which runs Smeatharpe Stadium, near Upottery in Devon, where he raced for six years.
A minute's silence and grand parade was held at Smeatharpe earlier this month.
Autospeed described him as a "canny, experienced driver" who rarely missed a race meeting.
Darren Thomas, chairman of the North Cornwall club, said Mr Weare was "an ordinary bloke" who enjoyed racing.
"We just wanted to pay our respects to his family," he told BBC News.
More than 100 people attended the event.