Puppy walker appeal for Devon and Cornwall Police dogs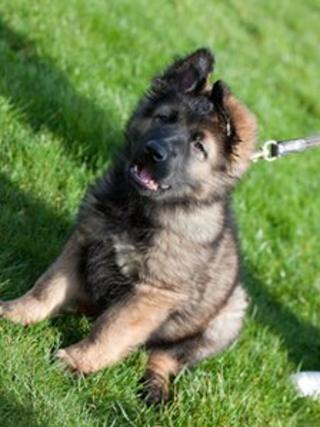 More volunteer walkers are needed for Devon and Cornwall Police's puppy scheme.
The force is planning to recruit another 10 puppies into its dog-training school by the end of the year.
The puppies begin their training by dog handlers at the force's headquarters in Middlemoor, Exeter, when they are 12 months old.
But before this stage, they are reared in homes by volunteers who are willing to care for them and exercise them.
Devon and Cornwall Police pays for the dogs' food and veterinary bills.
'Patience and determination'
Once fully trained the German shepherds are used to help track missing people, locate stolen property, chase and detain suspects, and keep order in crowd control situations.
Due to the scheme's growing success, more puppy walkers are now needed and for the first time the trainers are casting their net beyond Devon.
Sgt Paul Glennon said: "In the past we have kept our puppy walkers fairly local to Middlemoor but now we are expanding the scheme and, in order to find the best people to look after our dogs, we are looking for homes in Cornwall as well as Somerset.
"What is most important is that we find the right people who have the time, patience and determination to give our dogs the best start in life."
The puppy walkers must have a settled family background, a secure garden and be willing to undertake daily exercise, grooming and general care of the dog.
Puppies are normally placed with the volunteer at eight weeks of age and the puppy walker is expected to expose the animal to a variety of situations such as a bustling town centre, busy roadside and rough terrain.
The puppy walkers can attend weekly puppy classes and will be given training and socialisation advice from the dog-training school throughout the year.
Anyone interested in becoming a puppy walker should contact the dog-training school at Devon and Cornwall Police.