Mistake in poet Manley Hopkins' name angers lecturer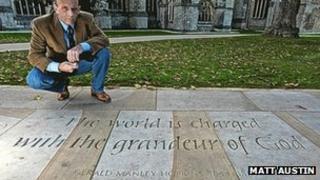 A "disgraceful" mistake over the name of a famous English poet has upset a university lecturer in Devon.
Dr Robert Mack, an English lecturer at the University of Exeter, noticed the error on a paved inscription outside Exeter Cathedral.
A quotation is wrongly attributed to Gerald Manley Hopkins - when the 19th Century Victorian poet's name was actually Gerard.
The cathedral authorities said the mistake would be corrected.
The poetry-engraved paving around Cathedral Green is part of the cathedral's Third Millennium Campaign.
'Provincial fools'
The cathedral said the aim of the quotations was to stimulate "thought and reflection".
Dr Mack, however, said for him it stimulated "disbelief and anger".
"It was busy on the High Street and I wanted some peace and quiet," he told BBC News.
"I made my way to the cathedral because I usually find looking at its towers gives me a sense of calm.
"First of all I noticed the benches were gone, then I noticed the inscription... I couldn't believe what I saw."
The English lecturer, who is originally from the US, said such a mistake was "disgraceful and embarrassing for Exeter".
"So let's fix it, because we don't want to look like provincial fools," Dr Mack said.
"We can all make mistakes, but how many eyes must have seen this?
"There must have been many, many pairs, so why didn't someone see it before the chisel hit the stone?"
The inscription "The world is charged with the grandeur of God" is the opening line of "God's Grandeur", written by the Roman Catholic poet in 1877.
While he accepts that many people might not know who Manley Hopkins was, Dr Mack is "puzzled" that no-one from the cathedral noticed.
"Not only was he a major English poet, he was a Jesuit priest," he said.
A cathedral spokesperson said the error would be rectified as soon as possible, but it would not be necessary to have the entire stone redone.