Unemployed people in Plymouth given fitness training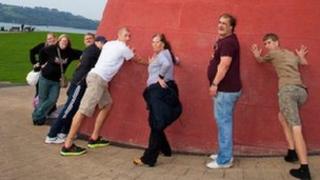 Jobseekers in Devon are being given fitness training to help them find work.
They are sweating it out in boxing, swimming and jogging sessions in a bid to to boost their confidence and motivation.
Working Links, a firm which helps people into employment, said more than half of the 100 taking part found work.
The company said it was only paid by the government once someone had been employed for six months.
Ed Atter, from Working Links, said: "Some of our long-term unemployed people are stuck in a rut and we need to change their routines to help them move forward.
"We only get paid if we're successful, so the risk is with Working Links, it's not with the taxpayer."
Personal Trainer Saul Rodgers said: "It's about trying to achieve goals. It's not all about fitness though, it's about working as part of a team and gaining confidence."
Leanne Horrell, 21, who has taken part said it had "boosted my confidence" and things were "definitely looking up".
WL, which is part of the government's Work Programme, said it hoped the Plymouth pilot would be rolled-out into Exeter, Torquay and Taunton.