Bideford traders 'may shut by Christmas'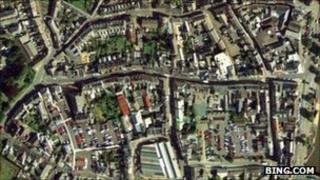 Some traders in a Devon town have warned that independent shops may close by Christmas due to a lack of sales.
Traders in Bideford said more needed to be done to help independent sellers compete with out-of-town retailers.
Clare Storey, who runs a health food shop on the high street, said she had "noticed a 50% downturn in customers".
Torridge District Council said it had approved an extension at the Atlantic Village retail park which secured a £500,000 investment for the town.
Ms Storey said: "It's been our worst year ever.
"I've heard several shops say they are going to give it until Christmas and if it's no better they are going to close the door."
Book shop owner James Cragie said that some days he had no customers and the "bad days seem to be increasing".
'Dual destination'
The council said it hoped the £500,000 would be used in line with Bideford Town Chamber of Commerce's "Vision" - a five-year-plan for the town - which the authority supports.
The Vision aims to attract new traders and outlines plans to introduce a town centre manager and park-and-ride scheme from Atlantic Village to the town centre.
Council leader Barry Parsons said the retailers were facing a "huge issue".
However, he said the money raised from the Atlantic Village extension was "giving an opportunity to Bideford" as it could be used to "help us in all sorts of issues".
Jayne Maynard, from the chamber of commerce, said: "We need to take advantage of these vast numbers that come to the Atlantic Village to encourage them to see it as a dual destination.
"I believe it [Bideford] has a very strong future, providing it maintains its core because it will stand out from the crowd."