St Giles-on-the-Heath gets talking defibrillator in phone box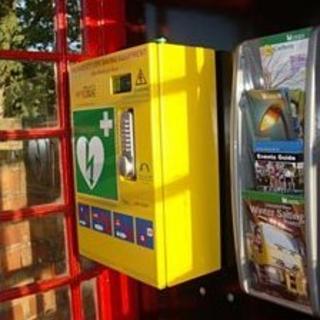 A traditional red phone box has been fitted with a talking defibrillator in a village in Devon so people suffering cardiac arrests can be treated quicker.
The kiosk in St Giles-on-the-Heath has been fitted with the equipment which tells people how to use it.
The equipment, locked in a steel cabinet, is accessed with a code provided by the emergency services.
The Community Heartbeat Trust said the equipment could give heart attack victims a 50% chance of survival.
Ken Hamlin, from the parish council, said the village was too far away from the main ambulance base in Launceston, Cornwall.
'A lifesaver'
He said: "If those ambulances are out on a call then it could be quite a while before an ambulance can get to us and this piece of equipment could be a lifesaver."
The equipment requires no medical training and talks to the user, telling them what they need to do.
It also analyses the victim to determine if they are having a heart attack and if a controlled electric shock is needed.
Martin Fagan, from the trust, said: "Phone boxes are ideal locations for emergency medical equipment because they're often in the centre of a town or village.
"With something as serious as a cardiac arrest time is of the essence and unfortunately the emergency services can't always reach country villages in the recommended five minutes."
The kiosk is one of five in the country to be fitted with the medical equipment and was bought from BT for £1.