FA replaces Reid cup medal sold to help Plymouth Argyle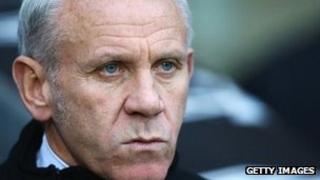 An FA Cup medal auctioned off to help cash-strapped Plymouth Argyle is to be replaced.
Former Argyle manager Peter Reid sold his 1986 medal for £2,200 earlier this year to help pay staff wages after the club went into administration.
Despite that gesture and paying a heating bill out his own pocket, Reid was sacked by the club in September.
Now the FA has confirmed it will replace the runners-up medal awarded to former Everton midfielder Reid.
"We felt the special circumstances merited the replacement of the medal because of Peter's good deed," an FA spokesman said.
Reid spent 15 months as Argyle's manager, taking over at the start of the 2010-11 season shortly before the financial crisis hit the club.
The team's fortunes foundered on the field too, as the club slumped to the bottom of League Two.
'Fantastic' gesture
When Reid was sacked, acting chairman Peter Ridsdale said he had put up with more in a short period than most managers in a whole career, but that ultimately, football was a "results business".
Ken Jones, from Argyle's supporters' club, said the FA's decision to replace Reid's medal was a "fantastic" gesture.
"I'm delighted because Peter Reid did absolutely all he possibly could to help Argyle when it was in such trouble," he told BBC News.
"Sadly it wasn't enough, but the FA replacing the medal is really kind and I think it's fantastic."
Reid has not been available to comment.