Dartmoor weir blown up to help migrating salmon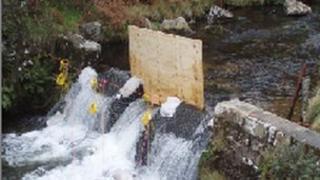 A weir on Dartmoor has been blown up in a series of explosions to enable salmon and sea trout to migrate more easily.
The Environment Agency (EA) carried out the controlled explosions at the weir on the River Taw near Belstone.
It said the weir was removed after being considered a "serious obstruction" to fish trying to spawn.
Bob Collett said the agency had previously used explosives "but this was the first time we've used them to demolish a structure".
Rare mosses
He added: "The operation was a success and it will now be much easier for fish to reach some pristine spawning grounds high on the Moor."
The EA said normal dismantling methods had been ruled out because of the remote location.
It added that bringing heavy equipment into the area may also have damaged rare mosses and lichens.
The agency also removed boulders from a weir at Sticklepath to create a deeper downstream pool to make it easier for the fish to migrate.
It said it hoped the changes would also improve water quality.