Emergency landing at Exeter Airport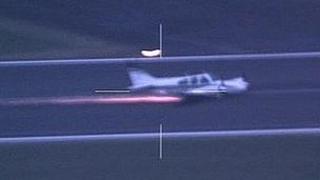 An aircraft skidded to a halt at Exeter airport during an emergency landing.
The aircraft, carrying two people, was travelling to Dunkeswell Airfield, when it was forced to divert, after its undercarriage could not be lowered.
The Air Accident Investigation Branch will look into the incident which happened on Saturday at 17:15 BST. Police believe no-one was injured.
Before landing, the craft circled to burn off fuel, Devon and Cornwall Police added.
It is unclear where the aircraft was travelling from.