Draft plans for Sherford Valley homes development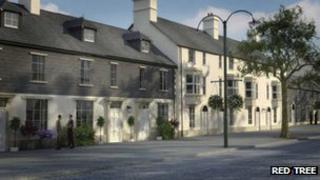 Draft plans to build thousands of new homes in the Sherford Valley in Devon have been made public.
If developer Red Tree's plans are approved, about 5,500 homes will be built in four "linked" neighbourhoods on the outskirts of Plymouth.
Each neighbourhood could have a GP practice and the draft plans include three primary schools - each with a 30-place nursery - and a secondary school.
The first phase of about 2,750 homes will take about five years.
The Section 106 plan reveals that 15% of those homes will be affordable housing.
High-speed broadband
A linked community at Sherford in the South Hams was first proposed in 2002 but the plans were not approved by councillors until 2009.
Planners had originally proposed that 45% of the 5,500 homes would be affordable but that figure was reduced following the economic downturn.
The percentage of affordable homes in the second phase will be dependent on market conditions, but Red Tree has said the target could be increased if and when the market recovers.
An unspecified number of homes will be built with wheelchair access and every house will have fibre optic cables for high speed broadband.
Other facilities planned for the linked communities include a cultural centre - possibly sited in the secondary school - which would include a community theatre and cinema complex.
Proposed recreational facilities include a youth centre with nearby skate park, an indoor sports centre with heated swimming pool and a sports "hub" which would have all-weather floodlit pitches and courts for sporting activities such as football, rugby, cricket and tennis. Changing facilities and parking for cars and bicycles will be built.
There will also be a community park, organic farm and a forest school (outdoor education centre).
The four neighbourhoods are Western, Southern, Eastern and Town Centre, with the Town Centre having a town hall, library and information centre.
Two 120m (394ft) wind turbines will provide 50% of Sherford's electricity requirements.
South Hams District Council has put the draft plans on its website, for the public to view and comment on until 7 November.
When the public consultation closes, South Hams and Plymouth City councils will then formally consider the draft plans.
A South Hams council spokesman said: "If outline planning permission is granted, the applicant will be required to provide detailed information... and satisfy a range of conditions and obligations."
When planning is finally approved, Sherford's linked development will take an estimated 12 to 15 years to complete.