College student raises baby seahorses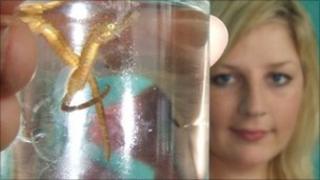 A north Cornwall college student is combining her degree studies with looking after dozens of baby seahorse at Newquay's Blue Reef Aquarium.
Charlotte Armstrong-Harris is studying for a Foundation Science Degree in Marine Conservation at Cornwall College Newquay.
She is researching best practices in raising baby seahorses for her final year project.
Curator Matt Slater said the results of her project were "pretty astonishing".
Mr Slater said: "In the wild only a tiny percentage of newborn seahorses survive into adulthood. In a captive environment the success rate increases dramatically however we are always looking at new ways to improve survivability.
"Recently we have started looking at raising the baby seahorses in circular tanks which allows them to remain suspended in mid-water close to their food.
"Charlotte is monitoring their growth and development on a daily basis. At the moment we have two batches of baby big bellied seahorses. One was born almost a month ago and the second arrived last week and both are thriving," he added.
The seahorse is unique in the animal kingdom in that it is the male rather than the female which carries the babies and gives birth to them via a special brood pouch on their stomach.
"Under threat"
Ms Armstrong-Harris said: "I've been in contact with other aquariums and the Seahorse Trust to get advice and information and I'm really pleased with how the project is progressing - although it's still relatively early days."
"It's fantastic to have the aquarium literally on our doorstep and it's been fascinating to monitor the seahorses as they develop," she added.
In the wild virtually all of the approximate 35 species of seahorse are now under threat from a variety of sources. These include loss of habitat, pollution, the souvenir trade and traditional Far East medicine - which is believed to account for the deaths of more than 20 million seahorses annually.
The seahorses at Blue Reef Aquarium are part of a captive-breeding programme which aims to ease the pressure on wild populations. As the seahorses mature they will be distributed to other UK aquariums.