Rock group Muse donate £15,000 to Plymouth University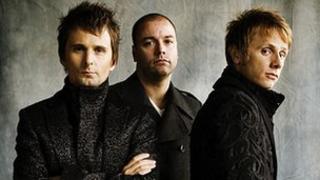 Internationally-acclaimed rock group Muse have pledged £15,000-worth of state-of-the-art equipment to students at Plymouth University.
The Brit Award winning band donated the money which will be used by music course undergraduates.
The equipment will enable students to gain hands-on experience and develop industry standard recording skills.
Professor David Coslett, Dean of the Faculty of Arts, said it was a "wonderfully generous gesture".
School of Humanities and Performing Arts will gain a modular analogue synthesiser, two liquid channel pre-amps, and a set of specialist orchestral and instrumental microphones.
Professor David Coslett, Dean of the Faculty of Arts, said the money would provide "exciting opportunities for our students to experience the kind of industry-standard equipment very few universities have access to.
"Inspire students"
"We are proud to be associated with the band, given their significant contribution to contemporary popular music and their links to the South West and the University."
Muse have close affiliations with Devon, with the trio all attending Teignmouth Community College in the early 1990s.
They were made honorary doctors of arts by the university in 2008, and have agreed that a portion of the donation should fund student prizes, rewarding innovation over the course of the next three years.
A spokesman for the band said they were "delighted to provide this equipment and hope it will inspire students to go on and create great music for years to come".