Devonport incinerator delay could cost £27m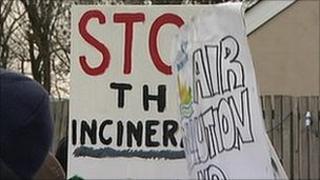 Delaying the construction of a waste incinerator in Plymouth for two years could cost Devon taxpayers £27m, the county council has warned.
The amount would come from landfill costs and loss of grants.
Campaigners threatening to fight the plans in the courts called the claims "scaremongering".
Devon County Council, Torbay Council and Plymouth City Council - known as the South West Devon Waste Partnership - agreed plans for a plant in February.
Ben Jennings, waste manager for Devon County Council, said: "We're looking at around £27m for a two-year delay, which is what might come from challenges which require the secretary of state to consider the issue."
If delayed, the authority said it would have to pay for landfill costs, treatment of waste, and it would lose a £95m grant from the government, in a private finance initiative, to pay for the waste project.
Objector Robin Keats said: "It is scaremongering.
"The council should have put aside money in case the incinerator does not start on time.
"If it has signed contracts that could put it in debt then it is very stupid and would be liable to prosecution."
German-owned MVV Environment would build the waste-to-energy plant in Devonport's North Yard.
MVV has said the plant would produce 22.5MW of energy - enough to power 37,000 homes.
Plymouth councillors will make a final decision on the planning application on 22 December.