HMS Bulwark becomes Royal Navy's new flagship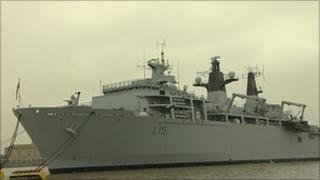 A Plymouth-based warship has been made the Royal Navy's new flagship.
HMS Bulwark is one of the largest warships in the fleet and will remain the Royal Navy's flagship for the next four years.
The title means the vessel will be kept ready to be deployed at short notice, anywhere in the world.
The warship, which was launched in November 2001, recently had a £32m refit at Devonport Dockyard in Plymouth which took eight months to complete.
HMS Bulwark has a crew of 320 but can carry up to 200 extra marines and as many as 500 for short periods of time.