Plymouth Argyle Home Park stadium deal agreed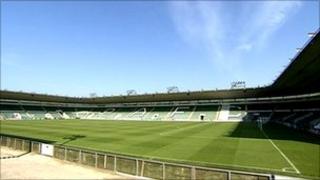 Crisis-hit football club Plymouth Argyle could be saved after the council agreed to buy its ground.
Plymouth City Council will pay £1.6m for Home Park and rent it back to the club for £135,000 a year.
The club, which bought the ground from the council for £2.7m in 2006, went into administration in March.
The council's purchase of the ground was a proviso of a rescue bid by businessman James Brent, who hopes to complete the deal this week.
'Hard-headed deal'
The move was unanimously approved by the full Conservative-controlled council.
The deal was greeted with cheers from dozens of fans who had packed out the council chamber for the vote.
The club, which is currently at the bottom of League Two, went into administration owing £17m.
The council deal means Argyle would have an option to buy back the ground every five years for a sum equal to 12 times the then annual rent.
The rent would rise by 150% if the club reached the Championship and 300% if it reached the Premier League.
The deal also removes covenants preventing non-football development around the ground.
Council leader Vivien Pengelly called it a "hard-headed commercial deal".
She said it would give the club "a new future and will preserve the economic benefit that it brings to the city through the employment of its staff, its suppliers, and the spending of both home and away fans, several million pounds a year".
Hotelier Mr Brent has been talking to stakeholders in the club as his Akkeron Group weighs up making a bid.
The purchase of the club also depends on an agreement with administrators on their fees and will be subject to approval by the Football League.
None of Argyle's players or office staff have received their full wages since the club went into administration.
Mr Brent said: "I am very grateful to the council for this decision.
"It was great to see the city pulling together. There was clear political direction from the leaders of the two main parties."
He added: "There are losses going to be suffered by everyone in this process but I am now asking everyone to pull together and work to get this deal completed within the next 48 hours."
When the deal has been completed, Mr Brent aims to pay staff their October pay in advance and within 24 hours.
"I would like to then be able to look forward to the game against Swindon on Saturday."
Chris Webb, of the Argyle Fans Trust, said: "We are absolutely delighted the council have done the right thing.
"We see it as a historic day for the city of Plymouth."