Okehampton firm Kerry Ingredients to shed 90 jobs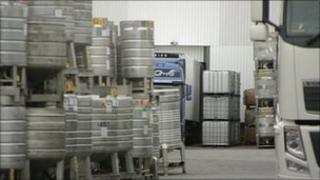 About 90 jobs are to go when a food factory in Devon closes in March, its owners have confirmed.
Kerry Ingredients in Okehampton said in June that the site was not viable and it wanted to move production to Shropshire.
The closure announcement comes after a three-month consultation with staff at the plant.
The company said it "greatly regretted" the decision. About 12 staff were to relocate to Shropshire, it added.
'Take whatever's going'
Kerry engineer Steve Hawker said: "I've been at this factory for 17 years now.
"The consultation has been going on. You don't accept it, but you just know that you've got to find something different.
"I'll take whatever's going. We've all got mouths to feed and mortgages to pay."
Three other local employers have laid off more than 300 workers in the area in 2011.
Robert Wiseman Dairies announced in January that 69 jobs were to go with the closure of its Okehampton plant, before Polestar Foods laid off 232 people two weeks later.
After going into administration in March, Browne's Chocolates shed 20 jobs.
Browne's and Polestar have now both restarted production, on a smaller scale than previously.
Councillor Will Mumford, from Conservative-controlled Devon County Council, said recent work to help people made redundant get back into employment had seen some success.
He said: "Of 146 who got engaged in the programme, 101 were put back in to employment. That indicates there are jobs in the town.
"There are businesses that failed that are being bought out and set up again, so it's not all doom and gloom."