Torquay given Purple Flag award for nights out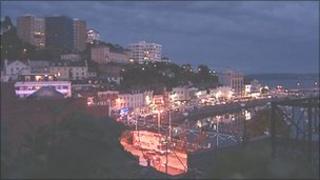 A Devon seaside resort has won a national award which recognises it as a safe and enjoyable place to have a night out.
Torquay harbourside has been awarded a Purple Flag from the Association for Town Centre Management.
Judges rated the town on its levels of crime, hygiene standards and the range of visitor attractions.
Business leaders welcomed the award and said they hoped it would help boost the economy.
The Association of Town Centre Management has worked with the Purple Flag Advisory Committee, which includes representatives from central and local government, police, business and industry representatives.
The association's chief executive, Martin Blackwell, said: "The partnership has worked extremely hard to develop and improve the evening economy and has been justly rewarded."
The award aims to raise standards and improve the quality of towns and cities at night.
'Raise the profile'
Ian Broadfoot, the head of Torbay Town Centres Company, which supports businesses in the bay, said: "I hope local businesses will be able to maximise opportunities that this accreditation brings to the town centre.
"It will also undoubtedly raise the profile of Torquay and the surrounding area as a very desirable tourist resort, giving a much needed boost to the economy."
Bournemouth, Manchester, Liverpool and Nottingham have all recently been awarded Purple Flag status.
The scheme is similar to the Green and Blue Flag projects for parks, green spaces and beaches.