Tweets net Devon marine biologist Maya Plass book offer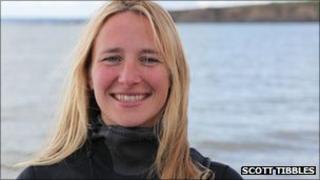 A Devon marine biologist's tweets about Latin words for plants and animals have landed her a book deal.
Maya Plass, 33, was explaining how she remembered the names using poems and rhymes when Jim Martin, who was tweeting under the name @chiffchat, joined in the conversation.
The natural history books editor asked her if she wanted to write a book.
Ms Plass, of Bantham near Kingsbridge, is now writing the RSPB Handbook of the Seashore.
She said: "I had been tweeting about a television programme with Chris Packham who was talking about shore crabs.
"It ended up with some of my followers tweeting me funny Latin names of creatures.
'Funny names'
"One of these followers was a tweeter who called himself @chiffchat."
She later found out that @chiffchat was Jim Martin, senior commissioning editor of natural history books at Bloomsbury Publishing.
"We exchanged other similarly funny names," said Ms Plass.
"At the end of which he said 'If you ever fancy writing seashore books get in touch'.
"I was a little baffled and he explained that he was the senior commissioning editor for natural history books at Bloomsbury."
"Needless to say I contacted him and after several emails, a meeting and a proposal, I have a book deal."