Plymouth City Council gritters on standby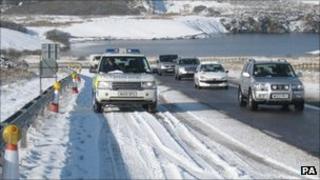 A south west council will be putting its gritters on standby from Saturday, despite the unusually hot weather.
Plymouth City Council said that because of damage caused by the last two harsh winters, its seven gritters will be on standby for the next six months to keep the city's main roads open.
It is also planning a public road show on Saturday.
The council will give advice about which roads will be gritted and travelling safely in wintry conditions.
The 'winter roadshow' comes in a week when the highest temperature recorded in the south west has been 24.8 degrees celsius, in Chivenor, North Devon, according to BBC weatherman Kevin Thomas.
Plymouth City Council said that if there was snow and ice this winter, it plans to grit 42% of the city's road network - almost 250 miles of roads.
Councillor Kevin Wigens, the council's cabinet member for transport, said: "Our salt store is full and our gritters will be ready to go from October 1.
"Saturday's event will reassure people about the city's preparations for winter."